Kodak Capture Pro
Kodak Capture Pro is the complete capture software application that allows you to scan, process, utilize, and manage documents and important data from those documents. Get powerful, flexible batch capture with Kodak Scanners– and scanners from other popular manufacturers – in desktop to highvolume production environments.
Kodak Capture Pro Software lets you quickly convert forms, invoices, patient records and other critical business documents to high-quality images.
Efficiently capture critical index data, then automatically deliver it all to databases and applications like the powerful OpenText Alchemy.
Benefit from new advances in quality control to identify and adjust challenging images without rescanning.
Intelligent Quality Control (QC)
Adjusts image quality even when original document is unavailable for improved data capture accuracy
Reduces cost of error correction through better downstream recognition
Cuts image review time by intelligently selecting questionable images
Kodak Capture Pro Software Network Edition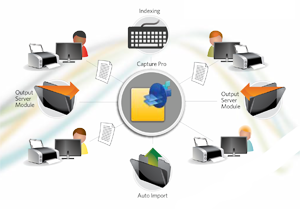 Server Software – featuring remote administration, batch monitoring and centralized licensing
Client Software – for smart workflow, robust processing, management and server connectivity
Software Output Server Module – for continuous job processing on any station while remote batch output is handled at another location